Quality Control in a Commercial Grade Paint Mixer
Commercial Paint Mixers demand a design which balances time to uniformity (Quality), with a robust commercial grade service factors. These are not your paint store mixers!
Our Commercial paint mixers are responsible for your product quality control while ensuring your process time is optimized. Our industry leading Solution Assurance will state and guarantee your time to uniformity, so you will not only know that your paint is at specification, but also the mixing time required.
Control the quality of your paints and coatings with Dynamix's full line of commercial paint mixers. There's a Dynamix mixer suited for each stage of your process, from manufacturing and transport, to storage and application quality control.
Our approach to commercial paint mixing is greatly valued in the higher viscosity demands of water based coatings, primers, electrocoats and Resins.
Dynamix commercial grade industrial paint mixers are ideal for all architectural, industrial and automotive/car & truck paints, and coatings, including:
Interior & exterior paints
Primers
Resins
Electrocoating
Water-based Paint
Enamels
Inks
Dyes
Paint Dispersions
---
Find a Dynamix Mixer
for each step of your process
---
Manage the Quality
OF YOUR PAINTS & COATINGS
The uniformity of your paints or coatings throughout your process has a direct impact on quality of the finished product.
For example, each step of the manufacturing process requires that pigments, solvents and additives be mixed according to specification, from paste formation and pigment dispersion, to paste thinning. Downstream, changes to your product during transport often mean it will need to be mixed back to uniformity.
You need an industrial mixer that will bring your product to specification in each step of your process.
But here's the challenge… It's difficult to bring your product back to uniformity with traditional high speed mixers because they create a non-directional, localized flow that can't pull stratified particles down from the top of the mixing vessel, or re-suspend solids from the bottom.
Eliminate uniformity issues by using Dynamix's high-pumping, high-torque industrial paint mixers. Our mixers create an axial flow pattern that involves the entire tank, ensuring that your product is brought to specification.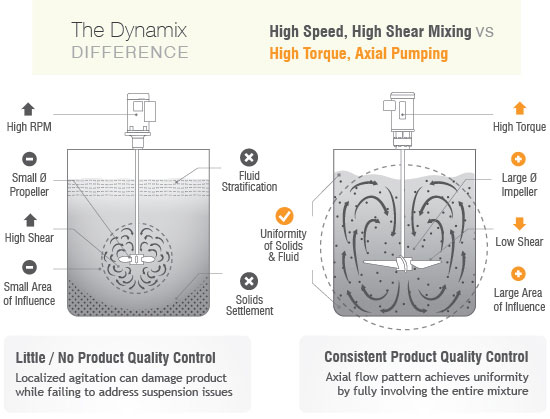 ---
Industrial Grade Paint Mixers
CONFIGURED FOR YOUR PROCESS
Dynamix's experienced staff will seek to understand your process, select the perfect mixer, and provide you with a complete mixing solution. By understanding your process, we're able to configure mixers specifically for your application. This in-depth knowledge is what also makes it possible for us to guarantee your product's uniformity and its cycle time.
The result? Uniformity, right when you need it.
Submit a quote request online, or call us directly at 1-877-331-0045 to find out how we can optimize the quality of your application results.
---
Mixing Experience with Solutions