WATER & WASTEWATER MIXERS GUARANTEED FOR YOUR TREATMENT PROCESS
Water and wastewater mixers are critical components of the multi-step process of water and wastewater treatment. Water treatment with a mixer requires precise control at each stage in its process – from rapid flash mixing to polymer addition. This control requires specific wastewater mixers designed by engineers focused on this process and industry.
Dynamix backs this product and application knowledge with a process guarantee unlike any other water or wastewater mixer manufacturer. See our Solution Assurance.
Dynamix has a full line of industrial mixers for each stage of your process, including:
Chemical Addition
Chemical Storage
Rapid Mixing
Flash Mixing
Coagulant Mixing
Flocculation
Activated Carbon Mixing

Slurry Mixing
Polymer Addition
Flocculation
Equalization & Neutralization
Anoxic Dentrification
Anaerobic Digestion
Chlorination
---
Find the Dynamix Mixer
for each step of your water agitation process
CHOOSE THE DYNAMIX SERIES FOR YOUR TANK SIZE:
---
Water & Wastewater Treatment Mixers
GUARANTEED FOR YOUR PROCESS
Mixing solutions for water and wastewater treatment must address the intricacies of your processes, from G value specifications to tank and baffle geometries.
While some chemicals simply need to be dissolved, others, such as lime slurries, require that solids be kept in suspension. Similarly, flocc / agglomerated particles formed in a flocculator tank are highly sensitive to shear. That's why it's critical to have a low shear polymer mixer that creates an axial flow pattern that won't damage the particles.
Eliminate mixing issues in your water and wastewater treatment processes by using Dynamix's high-pumping, high-torque industrial mixers. These high efficiency, robust water and wastewater treatment mixers ensure that your product is brought to specification.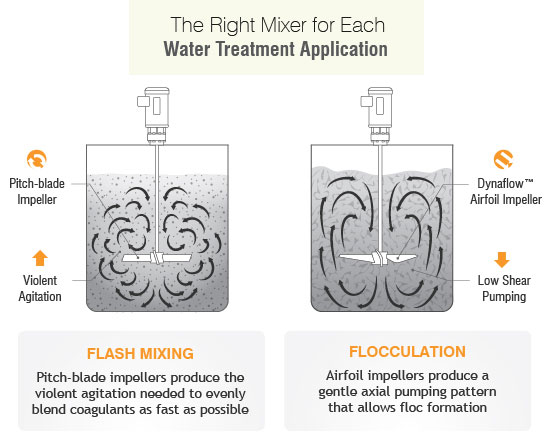 ---
Wastewater Treatment Mixers
CONFIGURED FOR YOUR PROCESS
Dynamix's water and wastewater treatment experts will seek to understand your process, select the perfect mixer, and provide you with a complete mixing solution. By understanding your process, from flash mixing to chlorination, we're able to configure agitators and mixers specifically for your water and wastewater treatment applications. This in-depth knowledge is what also makes it possible for us to guarantee your process and cycle time.
The result? Perfect uniformity, right when you need it.
Submit a quote request online, or call us directly at 1-877-331-0045 to find out how we can optimize the quality of your application results.
---
Mixing Experience with Solutions