PLASTIC & STAINLESS STEEL TOTE MIXER
The Integrated Tote Mixer (ITM) line of mixers, and the innovations it embodies, is the result of years of designing mixers for unique tote applications.
Originally, the integrated tote mixer evolved as a result of a need for quality control in the supply of automotive paint. This paint agitator needed to address the unique demands and limitations of paint mixing in a stainless steel tote.
Soon, industries outside the paint market began to benefit from the quality control enabled by tote mixing with the Dynamix ITM design.
Check out the linked videos for further details about the innovative ITM tote mixer design.
The #1 challenge that paint mixing faces is the same for many other industries – providing uniformity. Because of the success of the ITM Series, it has evolved from being a mixer for stainless steel totes to a mixer for plastic totes as well.
---
ITM SERIES
DYNAMIC DRIVE COUPLING
The Integrated Tote Mixer design allows you to easily re-configure the unit by mixing and matching the drive and agitator segments. This means that you can use the same tote mixer drive across multiple totes or applications. Because the two components are designed to attach and detach without using tools or brackets, you can now assemble the tote mixer that your process needs in seconds. You may consider it a ratchet set.
Eliminate product cross-contamination cost-effectively by sharing the drive segment across between totes without sharing the agitator segments.
---
Axial Pumping
BETTER MIXING, LOWER SHEAR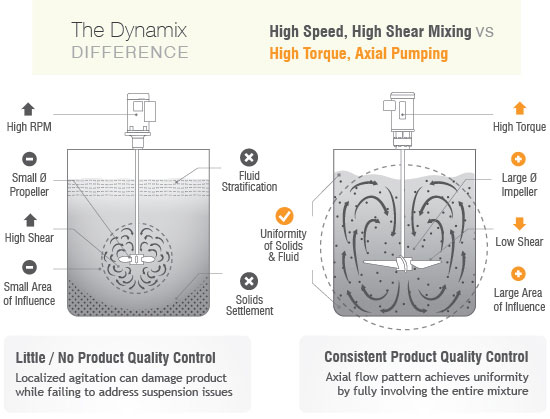 ---
4-Bladed
COLLAPSIBLE IMPELLERS
Our 4-Bladed Collapsible Impellers enter through the small openings of plastic and stainless steel totes. These impellers expand during mixing and collapse after for easy removal. Impellers are available in Dynaflow, Pitch, and Radial type impellers. This ensures that the correct type of mixing quality will be achieved.
---
ITM Series Tote Mixer
CONFIGURATION OPTIONS
MOTORS HP RANGE – 1/4 TO 2 HP
Air, electric, variable speed, explosion-proof, and more
GEAR REDUCTION – DIRECT, 5:1, 10:1, 21:1
Low RPM mixing with substantial torque available
ITM Mount for Plastic Totes or Stainless Steel Totes
The ITM Mount fits all types of tote openings
IMPELLERS – FIXED OR COLLAPSIBLE
Collapsible impellers offer increased mixing through small openings
Note: We do not have one single model for tote mixers. We have tote mixers for each type of tote container and multiple configurations to address all the challenges of tote mixing.
If you are unsure of your tote tank design…
Submit a quote request online, or call us directly at 1-877-331-0045 to find out how we can optimize the quality of your application results.
---
Mixing Experience with Solutions