OPEN HEAD BARREL MIXERS FOR 55 GALLON DRUMS
The MMX 2000 Series can be used as a drum or barrel mixer. These barrel mixers can be mounted onto an open head tank or an open head barrel for light-duty applications.
The clamp mount used in this design allows this mixer to be fully portable and adaptable to several types of open head tanks and barrels. An additional advantage of this mount is that the shaft angles into the tank providing increased space for the larger impeller sizes.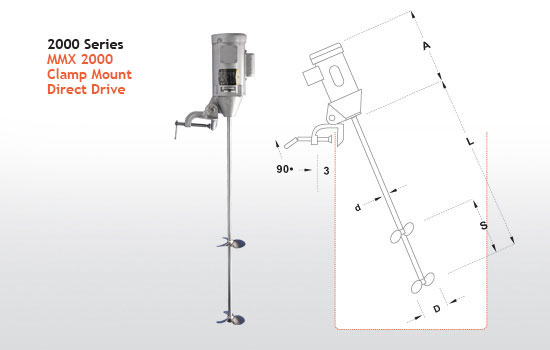 Dynamix agitators and mixers are selected and configured according to your needs. These images and configuration options are only guidelines toward your final mixer selection.
In order to provide our Solution Assurance we must engineer your mixer to pump the fluid properly. This pumping approach to mixing requires a larger diameter impeller. Often, barrels and drums to not allow for large diameter impellers, so we designed a collapsible impeller. This impeller can enter the 2″ NPT port of the barrel or drum.
---
Open Head Drum Mixer
CONFIGURATION OPTIONS
MOTORS HP RANGE – 1/4 TO 2 HP
Air, electric, variable speed, explosion-proof, and more
GEAR REDUCTION – DIRECT, 5:1
Low RPM mixing with substantial torque available
MOUNTING – OPTIONS
Light-duty clamp or light-duty plate mount
Multiple mounting options for open and closed head drums
IMPELLERS – FIXED OR COLLAPSIBLE
Collapsible impellers offer increased mixing through 2″ opening
Note: We do not have one single model for drum and barrel mixers. We have drum mixers for each type of drum, and configurations to address all the challenges of industrial drum and barrel mixing.
If you are unsure of your industrial drum or barrel design…
Submit a quote request online, or call us directly at 1-877-331-0045 to find out how we can optimize the quality of your application results.
---
Mixing Experience with Solutions