Mixing at Home: Kansas City-Style BBQ Sauce
Heat… Stir… Slather…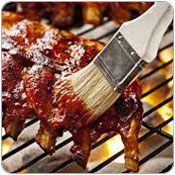 Nothing tastes better than grilled meats doused in a perfect barbeque glaze. Try mixing up this easy recipe to achieve those finger-lickin' ribs.
Ready in 45 minutes

Ingredients
Group A
2 tbsp neutral-tasting oil, such as grape seed or vegetable
6 cloves garlic, smashed
2 tbsp tomato paste
1 slightly heaping tbsp chili powder
1 tbsp paprika
1 tsp crushed red pepper
1/4 tsp ground allspice
Pinch ground cloves
½ tsp crushed red pepper flakes
Group B
2 cups ketchup
2 cups water
1/2 cup cider vinegar
1/4 cup dark molasses
1/4 cup firmly packed dark brown sugar
1 tbsp kosher salt
1 tbsp soy sauce
1 tbsp Worcestershire sauce
2 tsp English-style dried mustard
1 tsp freshly ground black pepper
1 bay leaf
Instructions
Heat oil in a medium saucepan over medium heat.
Cook while mixing ingredients from Group A until paste is dark brick red, about 3 minutes.
Add ingredients from Group B and adjust heat to maintain a gentle simmer.
Cook until the flavors come together, about 30 minutes.
Remove and discard bay leaf before using.
Got an awesome recipe? Send it in and we'll feature it.
Disclaimer: The recipes found on this website are provided as suggestions. We assume no obligation or liability, and make no warranties, with respect to these recipes.
If you have questions with your industrial mixer design...
Submit a quote request online, or call us directly at 1-877-331-0045 to find out how we can optimize the quality of your application results.