Selecting A Waste Water Mixer for Wastewater Treatment – Part 2
Waste Water Mixers for Optimal Flash Mixing & Flocculation
In part 1 of this series on wastewater and water treatment mixers, we discussed how to select a waste water mixer for chemical preparation. In this post, we'll show you how to select a Waste Water Mixer for flash mixing and flocculation.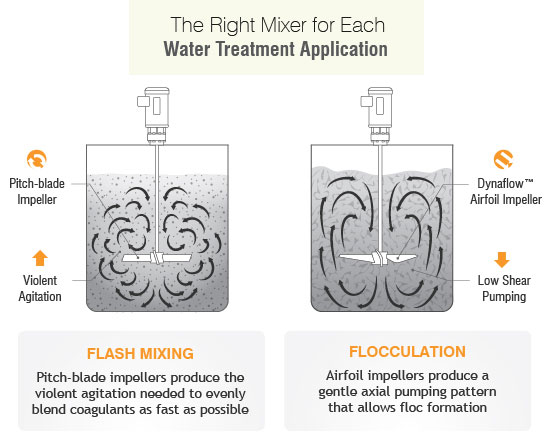 Done in a Flash?
Aggressive Agitation + Speed for Flash Mixing
Flash mixing is used to evenly distribute coagulating chemicals in water, allowing micro-flocs to form. As the precursor to flocculation, flash mixing increases the efficiency of flocculation and reduces chemical wastage. Because the components need to be quickly and evenly dispersed, this process is all about brute force. You'll need a waste water mixer that can generate a high shear mixing pattern (violent agitation) in the shortest time possible. An ideal flash mixer will have the following features:
Impeller – For high speed, high shear mixing, your best bet are pitch-blade impellers. They create a turbulent fluid flow that allows solids to collide and shear. For our clients, we recommend the P4 Pitch impeller blade and customize the size and diameter to their process.
High G Value – Because the residence time in flash mixing is short (less than 60 seconds), the mixer needs to be configured with a high G value / velocity gradient (400 – 1000 sec-1). This has to be calculated by your mixing team: at Dynamix, we may vary this value to ensure proper dispersion.
Tank Configuration – While not actually part of the mixer, tweaking the tank configuration can minimize short circuiting. To maximize particle contact, we recommend flowing in from the bottom and the flowing out from the top.
Gentle Mixing for Successful Floc Formation
After flash mixing is complete, the micro-floc undergoes flocculation, a process that separates solids suspended in water. To be successful, micro-flocs must first attach themselves to impurities in the water and then cluster together to form larger, visible agglomerates known as macro-flocs. The challenge is that floc particles are very sensitive: they must be mixed in a way that allows them collide and bind with each other. The high shear, high speed mixer that you use for flash mixing would destroy floc particles. Instead, you need a mixer that creates a gentle, axial flow pattern that generates low shear over a large area of influence. An ideal flocculation mixer will have the following features:
Impeller Shape & Size – For low speed, low shear mixing, your best bet are large airfoil impellers. They create laminar fluid flow over large areas of influence that protect the integrity of the solids. For our clients, we recommend Dynaflow™ blades with an impeller diameter-to-tank ratio of 0.3 – 0.45.
Impeller Tip Speed – Another way to minimize shear is to manage the impeller tip speed. As with G values, determining the appropriate tip speed is dependent on your specific process. In general, we recommend a maximum tip speed of 480 feet/min for our Dynaflow™ impellers.
Low G Value – Because the residence time for flocculation is considerable longer than flash mixing (>30mins), the mixer needs to be configured with a low G value (20 – 100 sec-1). Despite the low G values needed for flocculation, it's still advisable to add an additional 15% on top of the calculated G value to ensure sufficient power.
Summary
As you can see, flash mixing and flocculation require very different mixing solutions. If you're interested in learning more about mixing solutions for your process, post a comment or email us at [email protected].
If you have questions with your industrial mixer design...
Submit a quote request online, or call us directly at 1-877-331-0045 to find out how we can optimize the quality of your application results.